ZMT Tailpiece
About Zoran Marković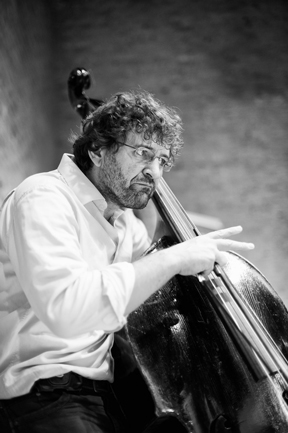 After graduating from The Academy of Music in Podgorica and taking his M.A. at The Faculty of Musical Art in Belgrade, the double-bass player Zoran Marković continued his studies with renowned pedagogues in Venice, Cremona, Munich, Salzburg.
During his study, he was awarded numerous prizes at competitions at home and abroad. As a member of the Slovene Philharmonic String Chamber Orchestra he was awarded the Prešeren Fund prize (the prestigious Slovene prize) in 1999, the O. Župančič prize in 2004, and the J. Betetto prize in 2006.
Zoran Marković performs in Slovenia and abroad as a soloist, with renowned orchestras and chamber musicians. He has been successfully performing as a soloist with the Slovene Philharmonic Orchestra, the Belgrade Philharmonic Orchestra, The RTV Slovenia Symphony Orchestra, Detmolder Kammerorchester, Orchestra di Padova e del Veneto, Nuova Orchestra Ferruccio Busoni, the Slovenicum ensemble, the Strings Chamber Slovene Philharmonic Orchestra, St. George's Strings, the Niš Symphonic Orchestra...
He performed at the Aspecte Salzburg, Neuebühne Villach, Serenate nel Chiostro, Trieste Prima, I suoni delle Dolomiti, Akzente-Neue Music in Klagenfurt, Ljubljana Summer Festival, Grad teatar Budva, PAC Murska Sobota, A Tempo Podgorica, Oxford Chamber Music festival, Osnabrücker Musikfestival »classic con brio«, Düsseldorf ChamberJam, Stiftfestival, Gauting München, The Schloss Elmau, Holstebro "Klassiske Dage", Storioni Festival, Kuhmo Chamber Music Festival and many others.
From 1990 to 2004 he was the head of double basses of the Slovene Philharmonic Orchestra. From January 2004, he is employed as a senior lecturer at the Academy of Music in Ljubljana. He has been a permanent external associate of the RTV Symphony Orchestra as a double-bass soloist since 2006. He also acts as a professor at the International Summer Academies of Music in Austria, Italy, Holland, England, Finland and Germany. In recent years, he has been dedicated to conducting symphonic and opera music with great success. As a permanent guest conductor, he collaborates with the Austrian Symphony orchestra Orkesterverein Feldkirchen.